Columbia, Missouri
November 3-5, 2012
Our daughter Abby had moved to Columbia with Owen, her fiancée; it was the first time we had visited them and the first time we had visited Columbia since 1971. While we usually research restaurants in advance, on this trip we left the itinerary to our hosts.
We arrived late Saturday afternoon and were given a tour of the city. Owen told us there were six thousand restaurants in Columbia, and after surveying the downtown area, I believe him; the streets were lined with eating establishments. We were shown lots of candidates we could have dined at. Murry's was high on that list, but it wasn't open on Sundays and there was concern the wait would be too long on Saturday evening; Murry's doesn't take reservations.
Our hosts had settled on The Wine Cellar & Bistro for our first taste of Columbia; they had dined there numerous times before.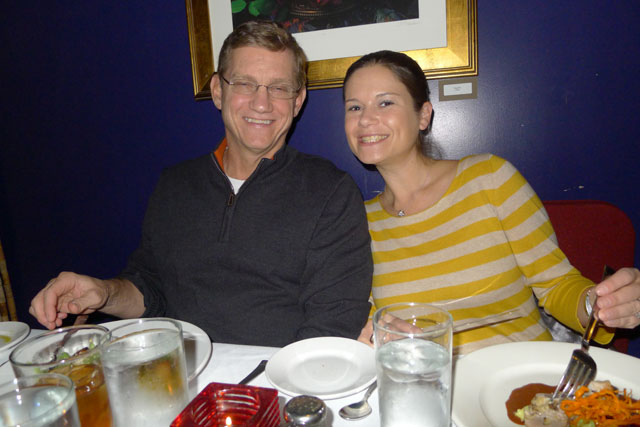 The Wine Cellar had a nice wine list, although I would have expected more wines by the glass. We selected a bottle of the 2009 Mendel Malbec, which we felt certain was bottled during our visit to that winery in Mendoza in October of 2009.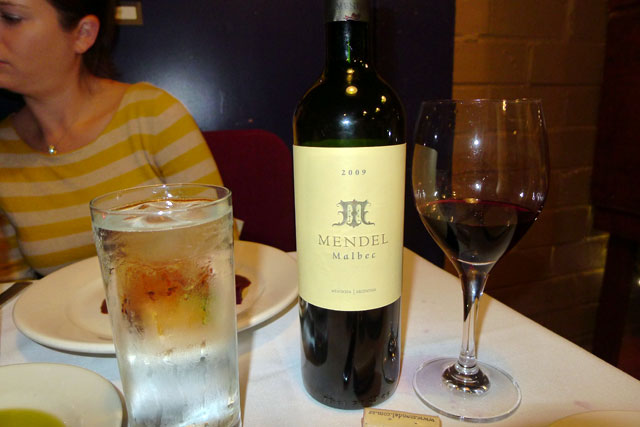 Marlene ordered the quail egg salad for her first course and I started with a cup of the black bean chili, which was a special that night. The chili preparation was billed as including both trout and pumpkin; it was good, but I couldn't discern either of those ingredients. Marlene enjoyed her salad.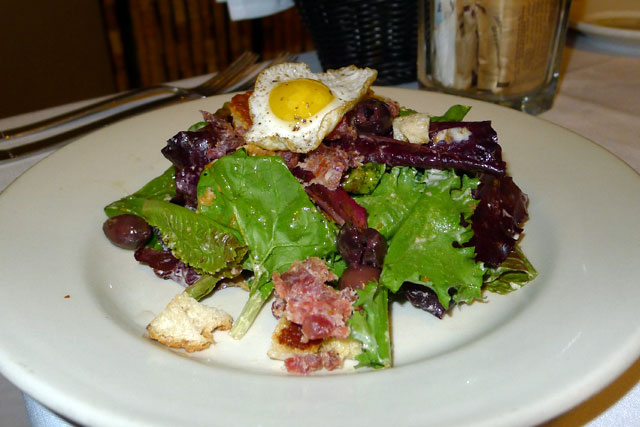 Quail Egg Salad; Mixed greens, Niçoise olives, a sunny side up local quail egg, baked croutons, prosciutto Americano, and black walnut — sherry wine & truffle vinaigrette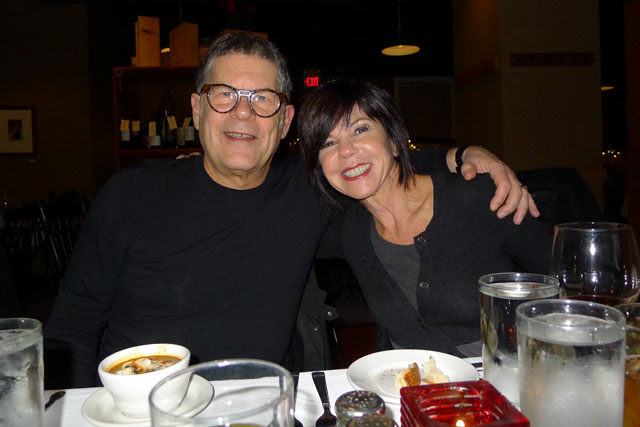 For our second course, Marlene and I both ordered the balsamic and rosemary duck. It was good, but we both had enjoyed better. Abby ordered the tuna and reported that it was not good.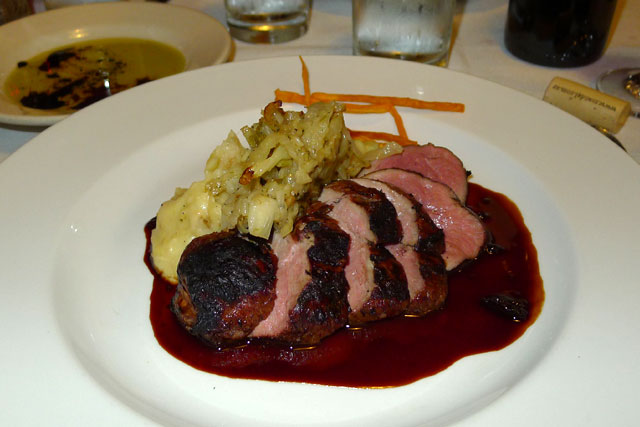 Balsamic & Rosemary Duck; Grilled duck breast served with mashed yukon gold potatoes of caramelized onion, yogurt and garlic confit, and served with caramelized fennel and an elderberry agrodolce sauce
Our hosts lamented that our dinner had not been better; their past experiences had been far superior. They suggested we forego dessert and walk to Red Mango for frozen yogurt. It didn't disappoint. My white peach/banana combo with fresh strawberries was delicious!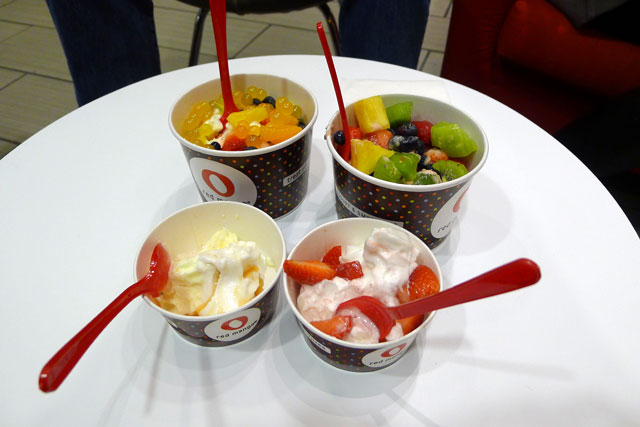 Sunday morning, we drove downtown to The Coffee Zone; Abby doesn't like her coffee maker. I fell in love with the place. The ambience was sit-all-day comfortable; the coffee was rich and tasty. And they had bagels for Marlene.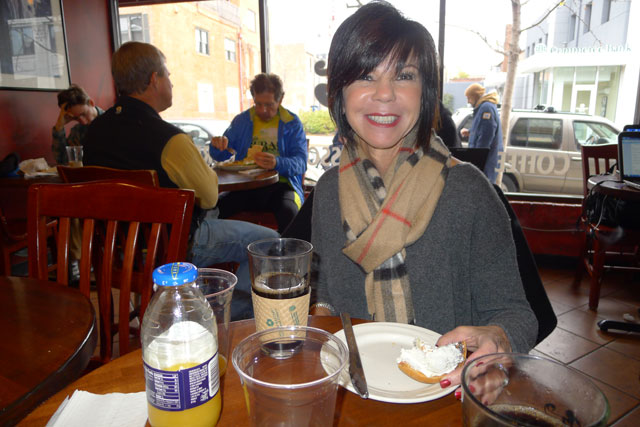 After breakfast, we toured the campus. While many of our friends had attended Mizzou, this was our first time on campus, aside from my brief visit to the medical school. I love walking around college campuses; it makes me feel like one of the students. Owen was the perfect guide.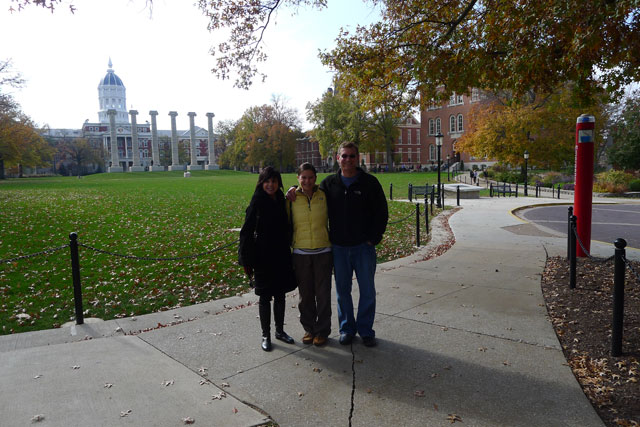 We continued to walk off calories and headed for our planned lunch at the Broadway Brewery. On Sundays, this below-street-level establishment serves brunch for lunch, accompanied by live bluegrass. And while it's a working brewery, brewing seasonal ales, on Sundays it's mimosas and a build your own Bloody Mary menu.
Marlene ordered the smoked salmon Benedict and I ordered a lamb burger with Gruyère cheese from the Breakfast Burger Bar. The red pepper coulis served with Marlene's eggs was special; both dishes were yummy!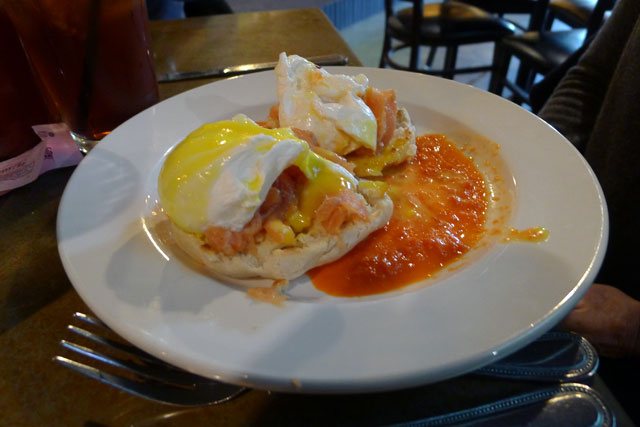 Smoked Salmon Benedict; Two poached eggs, smoked salmon, English muffin, hollandaise, red pepper coulis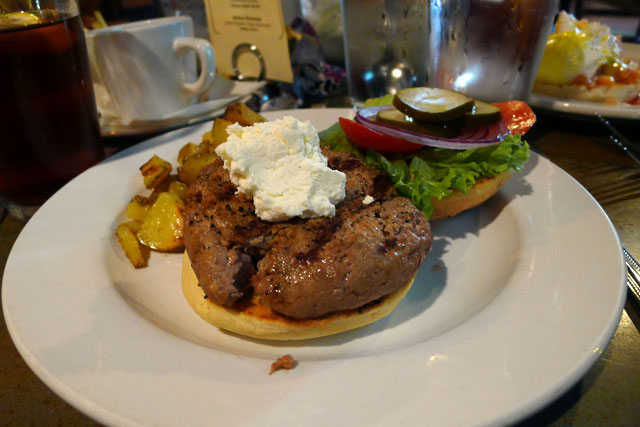 Terra Bella Lamb; with Gruyère cheese, roasted breakfast potatoes
Satiated and satisfied, we relaxed as the musicians drifted in and setup for the promised Sunday Bluegrass Jam. And jam they did.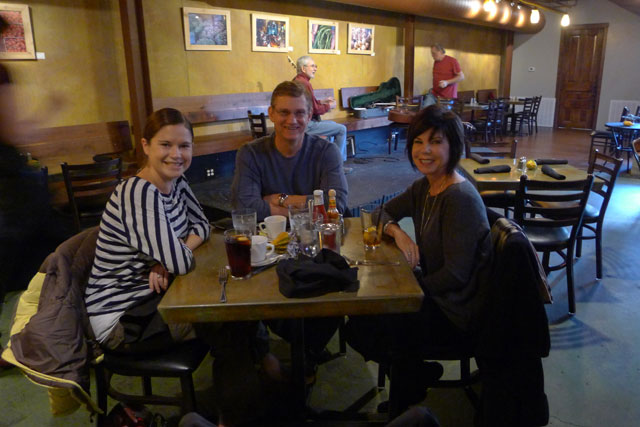 In a musical mood, we left the jamming bluegrassers and visited Columbia's Streetside Records – a blast from the past.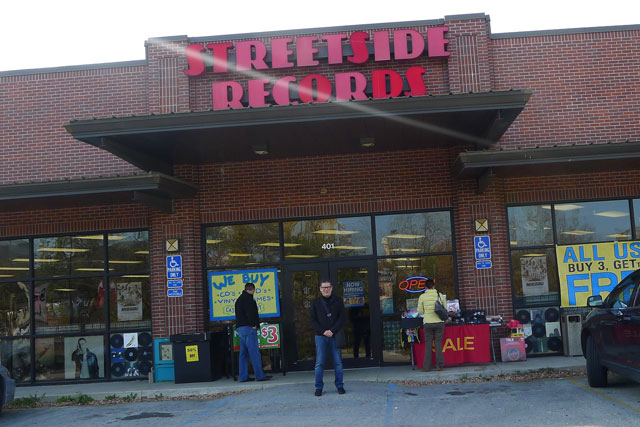 Founded in 1971, Streetside was THE record store in St. Louis, with dozens of locations throughout Missouri and Illinois. The flagship store in the U City Loop shuttered its doors on Christmas Eve of 2007. The Columbia store has survived the online revolution, but judging from its inventory, its demise may be immanent.
Our Sunday evening dinner destination was west of the downtown area. Owen told us that CC's City Broiler had moved there from its original location in an old downtown bus station.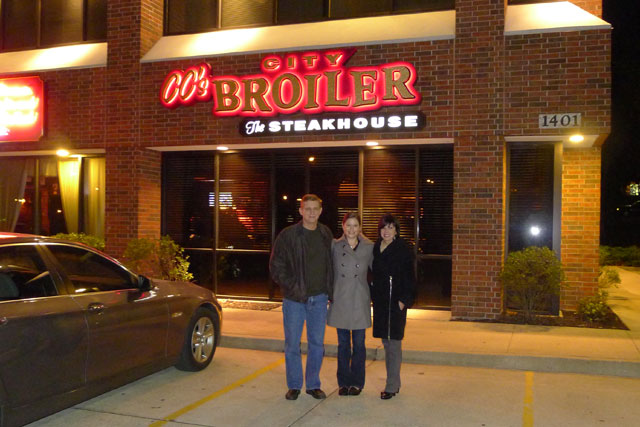 It's unusual for us to frequent a steakhouse, particularly when we travel. While I enjoy a good steak, I can prepare one reasonably well on the grill at home.
The menu was standard steakhouse fair – steaks and seafood, with salads and sides. Abby ordered the tuna and Marlene, Owen and I ordered the New York strip. But this steakhouse was not standard, as we realized once our salads were served.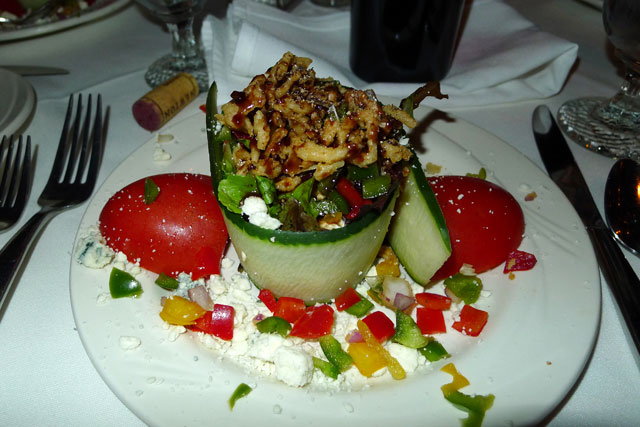 Abby's tuna was wonderful; it was a far cry from the tuna she had endured the night before.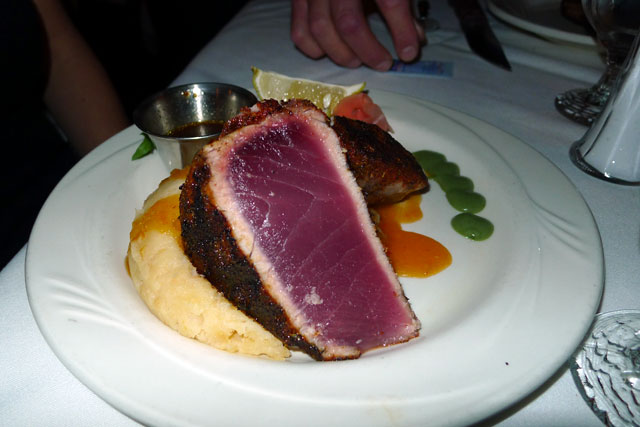 Tuna "Chop" (Seared Ultra Fresh Ahi); brushed with mango-chili glaze and served with "sexy" citrus ponzu and lobster mashed potatoes
The strips were spectacular, both their quality and preparation. Marlene never orders a steak; she ate most of hers, leaving Owen only a small piece for his Monday lunch.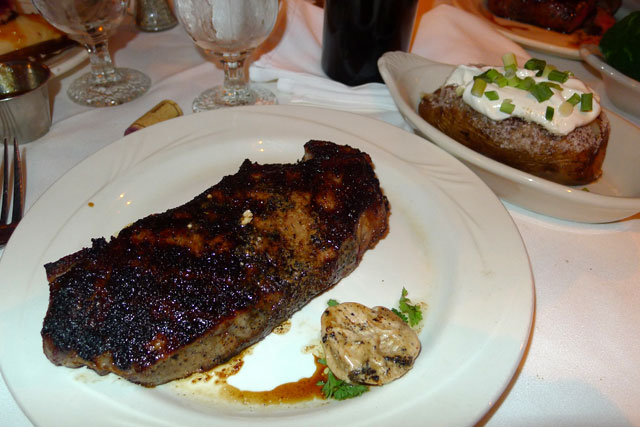 The waitstaff can raise (or lower) any meal to another level. Our waiter was exceptional.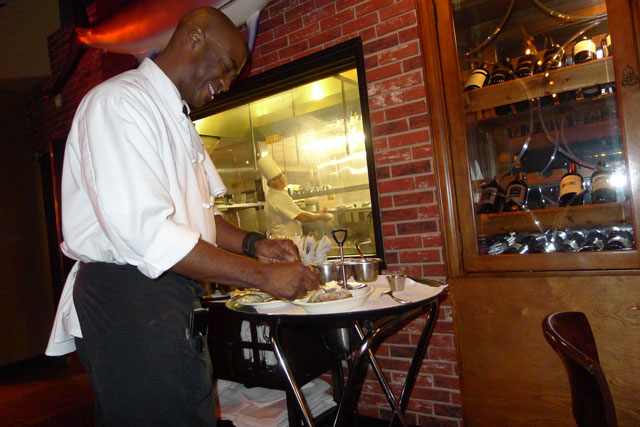 Owen told me to check out a photo over the urinal in the men's room. Here's looking at you kid.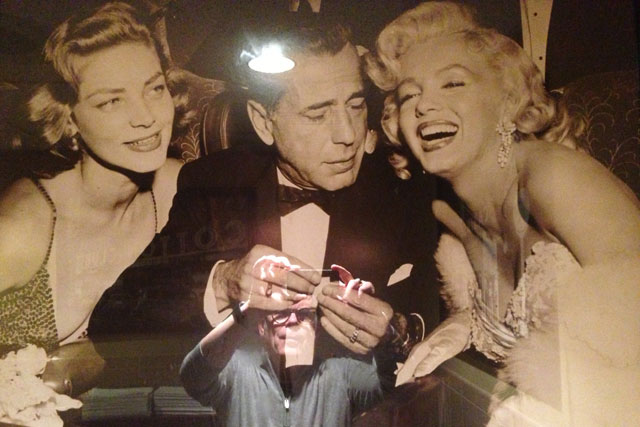 The next morning, after a stop at Dunn Brothers Coffee, we headed back to St. Louis. We very much look forward to returning to Columbia to visit Abby and Owen . . . and to try out the five thousand, nine hundred and ninety-seven restaurants we have yet to sample.
---
Copyright © 2012 TwoForTheTable.com