Niche – The Forsyth Saga
St. Louis, November 9, 2012
There was a method to Gerard Craft's madness when he decided to move Niche from its successful Sidney Street location to 7734 Forsyth in Clayton. He had already experienced the operational synergy of side-by-side restaurants in the Central West End with his successful Brasserie and Taste duo. He sought to duplicate this by moving Niche adjacent to Pastaria, his "fresh approach to Italian dining" which opened in September.
There were certainly benefits to remaining in Benton Park, with its stable clientele and the venerable Sidney Street Cafe down the block. But in addition to synergy, Clayton offered a more central location and free garage parking.
Marlene and I had already dined at Pastaria multiple times and had watched as the finishing touches were put on Niche's new abode. But as we entered the now lighted and bustling restaurant, it was clear that the new abode had much of the same ambiance as the old. The decor had a familiar warmth, with the same orange banquettes in place. And the waitstaff was definitely familiar, with most of the oldies but goodies making the move.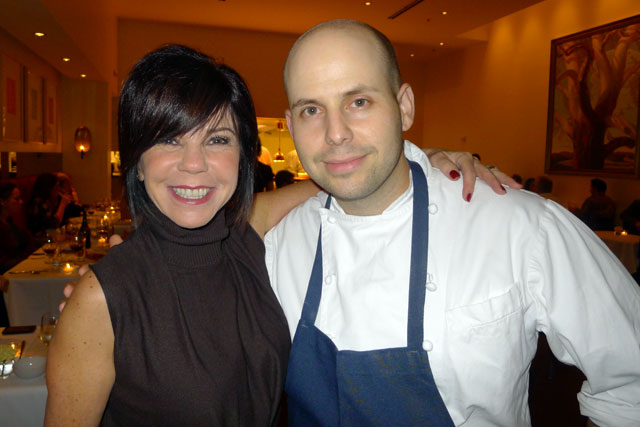 Gerard welcomes Marlene to Niche
Audra, our server, gave us menus that also looked familiar. But we were pleasantly surprised to find that many of the menu items were not so familiar.
After ordering a bottle of wine, we tackled the "Snacks" menu which required research on our iPhones. We learned that "chicharones" were fried pork rinds and that "coxhina" were Brazilian chicken croquettes. Gerard had been served these deep fried chicken balls by his Brazilian nanny when he was a boy. However, while fried in chicken fat, these coxhina were filled with Brazilian cream cheese. They were delicious and they are now our Snack-of-choice at Niche.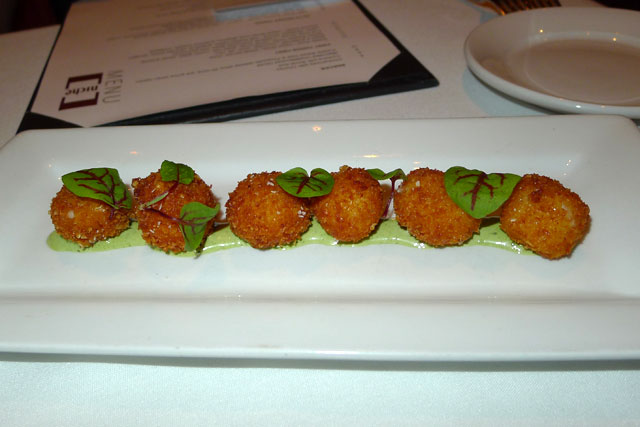 Coxhina with Sorrel Aioli
Next came Niche's signature amuse bouche – maple custard served in an egg shell, with roasted mushrooms and bonito caviar.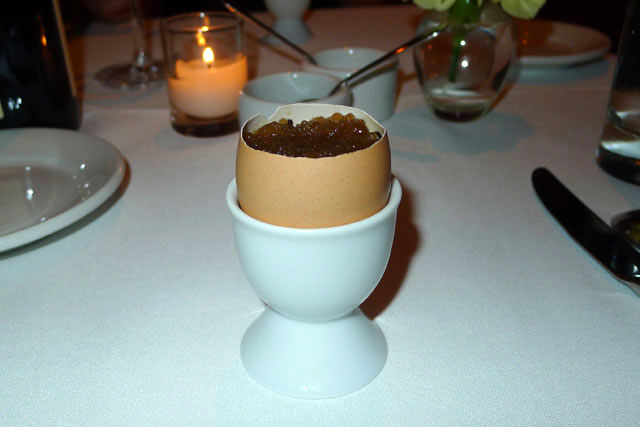 Maple Custard
For many years, Niche didn't offer bread to its patrons. More recently, cubes of focaccia had been served. On this evening, we chose from three breads; Marlene ordered focaccia, which was served slice-of-cake style, and I ordered a whole-wheat sour-dough roll. Both were very good; we ate them without butter or oil. But the third choice, which we had initially spurned, turned out to be the best – a warm sweet-potato rosemary roll with sorghum butter. It was addicting.
We selected two items from the "First Things First" menu, the foie gras terrine and the escolar crudo.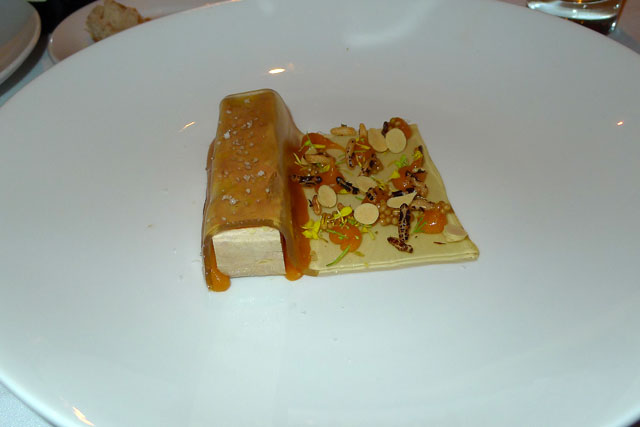 Foie Gras Terrine; mustards, chamomile gelee, wild persimmon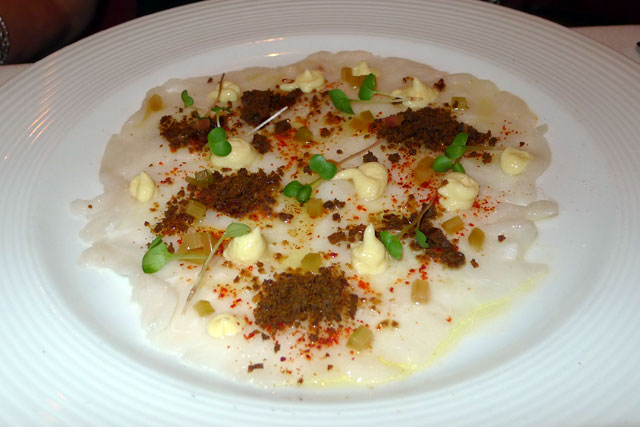 Escolar Crudo; meyer lemon curd, jalapeno, poached rhubarb, molasses
Both starters were larger servings than the Niche starters we'd remembered in the past, particularly the crudo. Each dish was an intricate combination of flavors that only a culinary genius could successfully blend.
Throughout our meal, we compared notes with the diners next to us; epicureans bond quickly over a good meal. From this photo you might think we were still dining in Benton Park.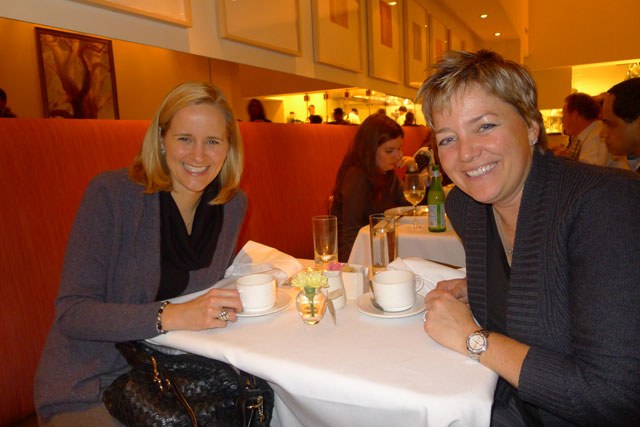 Next came the traditional Niche palate cleanser, a smaller serving than we remembered, which we thought appropriate.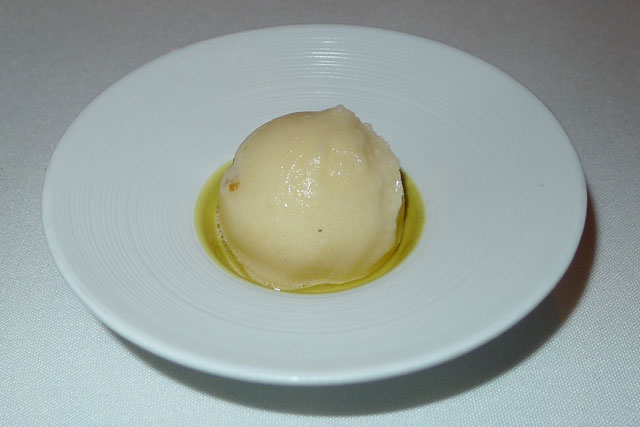 Rosemary Apple Sorbet
Niche is not for the faint-of-palate; there were only five items on the "On to Bigger Things" menu. I know many timid-tongued diners who would immediately dismiss the braised carrot vegetarian dish and the whitefish, who would recoil from the duck, lamenting it was not chicken, who would recoil again from the pork belly, and who would default to the filet of beef. But Niche is not for the timid; they can revel in the pastas and pizzas at Pastaria. We ordered the whitefish and the duck.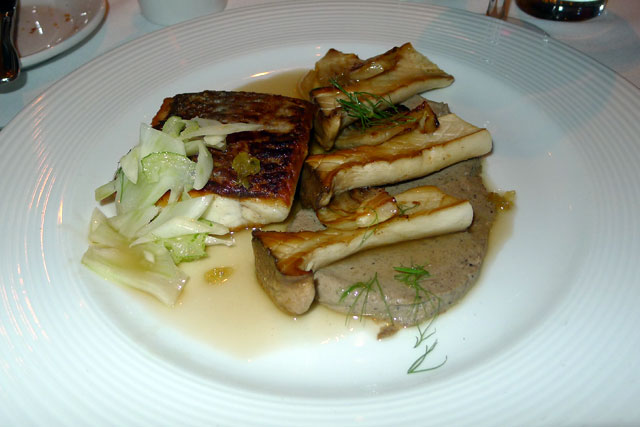 Wild Great Lakes Whitefish; roasted mushroom puree, lime, French horn mushrooms, juniper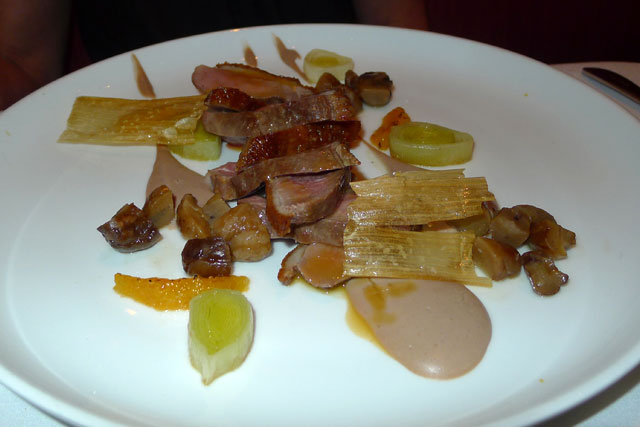 Aged Duck Breast; chestnut puree, charcoal leeks, charred orange
The fish was delicious, complimented but not overpowered by the mushroom accompaniments. And while it's easy to do not-so-good duck, this duck was perfect.
We really didn't have room for dessert, but . . . we decided to share the pumpkin offering, as I'm partial to anything pumpkin.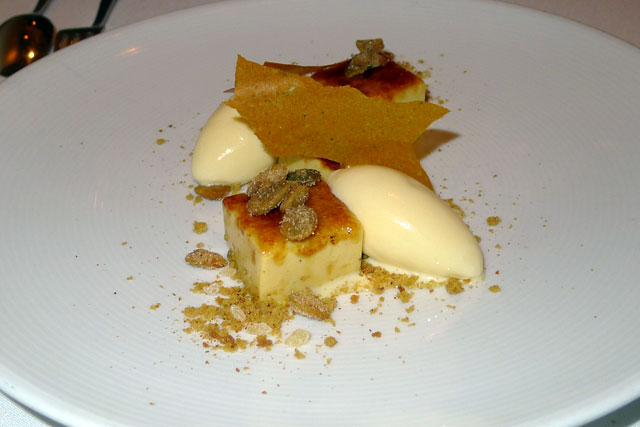 Pumpkin Custard; crème fraiche ice cream, pumpkin seed crumble, sassafras
Though our tummies were full, we ate every bite; it was wickedly good. I bet you wouldn't find a better dessert at Girl & the Goat!
For its second night open, Niche seemed to be running on all cylinders. Gerard informed us there were a few paintings still needing to be hung and that master mixologist Ted Kilgore would soon bring over the Taste cocktail menu. But whatever Gerard felt was still imperfect about his new establishment, it couldn't have been the food. Gerard had taken his menu to a new level and, knowing his obsession with quality and innovation, he will continue to do so.
---
Copyright © 2012 TwoForTheTable.com