Saffron – An Indian Adventure
St. Louis, November 17, 2012
I've always found the traditional Indian menu overwhelming. A few years ago, a friend hosted a dinner party at a local Indian restaurant; he chose the menu, there were lots of dishes to sample, and everything was delicious. But when I returned with my family to the same restaurant, forced to choose fewer menu items on my own, the meal was a disappointment. Consequently, Marlene and I shy away from Indian cuisine. So yesterday, when I asked my Pilates instructor to suggest an after-the-movie dining venue and she recommended an Indian restaurant near the theater, I was less than enthused.
Beth, in addition to being the best Pilates instructor on the planet, is also a foodie extraordinaire. She knew I found it difficult to navigate Indian menus, and promised to ease my pain and order for us. So when Marlene and I exited our movie that evening, I found the following email on my iPhone.
Hi Harley-

Here's the website: Saffron Indian Cuisine
It's at 2137 Barrett Station Road...and here's what you should consider:

Appetizers:
Samosa AND Gobhi Lassanwalla (if you only want to try one, go with the Samosa)
Pakora is also mighty tasty, but is very similar to Samosa, so only go with one of those.

Entrees:
Lamb Rogan Josh
(any meat) Korma or Tikka Masala
Lamb or Chef Special Biryani
Aloo Gobi (my absolute favorite, but if you're getting the Gobhi appetizer, skip this entree)

Naan:
I always always order Naan and my favorite is the Peshwari Naan. You have to order Naan so you can sop up all of the delicious sauces, plus they always serve it with delicious mint chutney and tamarind sauces.

I almost never save any room for dessert, but if I had to choose one, it would be the Rice Pudding.

I'm so jealous!
Enjoy-
Beth
Saffron is located in a nondescript strip shopping center. While there were cars in the parking lot, it was difficult to see signs of life from the outside. But as we entered, the bustling restaurant exuded warmth. A good start.
We were seated in a booth and given menus. I chose a Chianti from the small wine menu; there were Indian beers but no Indian wines. I then studied the much larger food menu; it was overwhelming as usual, but my anxiety was assuaged by the email in my pocket.
Our waiter asked if we'd like to order appetizers. I consulted my iPhone and ordered the Gobhi Lassanwalla and the Samosa. I felt compelled to explain that we were Indian novices and were ordering based on a friend's recommendations. He said our friend was doing a good job so far.
The Gobhi was the Indian equivalent of a Chinese sweet-and-sour dish, although the rich "chef sauce" on the deep fried cauliflower was not quite as sweet and had more of a tomato base. The Samosa was the Indian equivalent of a Jewish potato latke shaped like a hamantash. It was served with cilantro/mint, tamarind, and tomato/onion pearl sauces. Both appetizers were delicious and quite filling.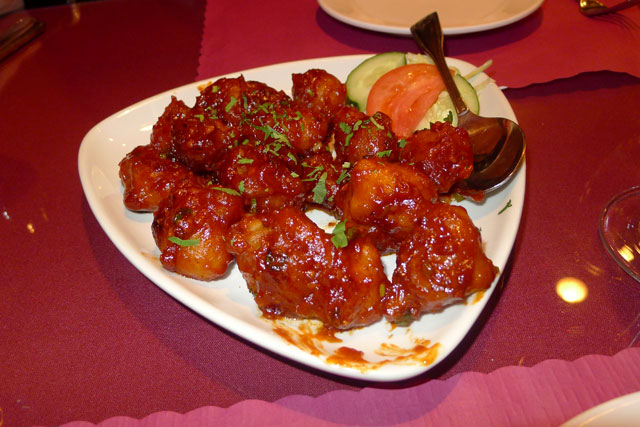 Gobhi Lassanwalla
Fried cauliflower sautéed with ginger, garlic and chef sauce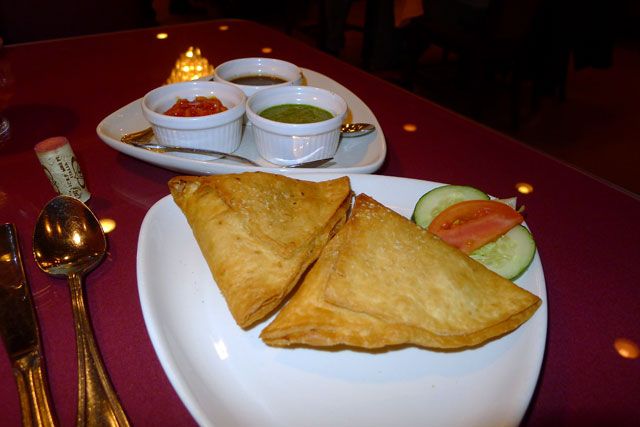 Samosa
Pastries stuffed with assortment of vegetables and potatoes
Our waiter returned and, after consulting my iPhone, I ordered the Lamb Rogan Josh and the Chicken Tikka Masala. I asked if we needed a third entree, as Beth had others listed, but he smiled and said the two we had ordered would suffice. I also ordered Naan, the Peshwari, as instructed. Once again, our waiter smiled and told us he now thought he knew the identity of our helpful friend.
Both entrees were rich and tasty, and we certainly needed the "leavened bread" to sop up the copious thick sauces. However, while the subtle sweetness of Beth's favorite Naan was evident when eaten alone, this subtlety was overpowered by the sauces.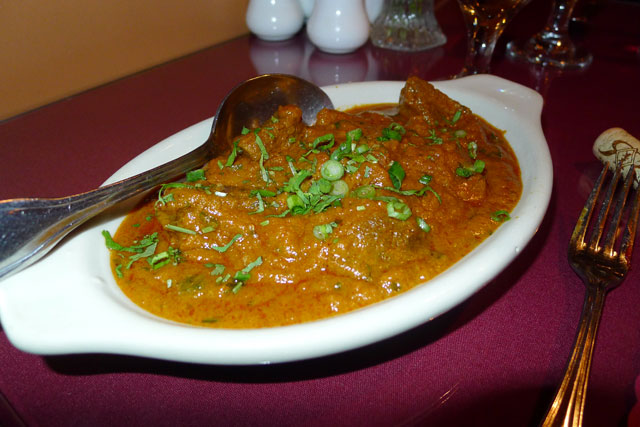 Lamb Rogan Josh
Lamb cooked in fresh tomatoes, onions, ginger, garlic, cardamom, and cloves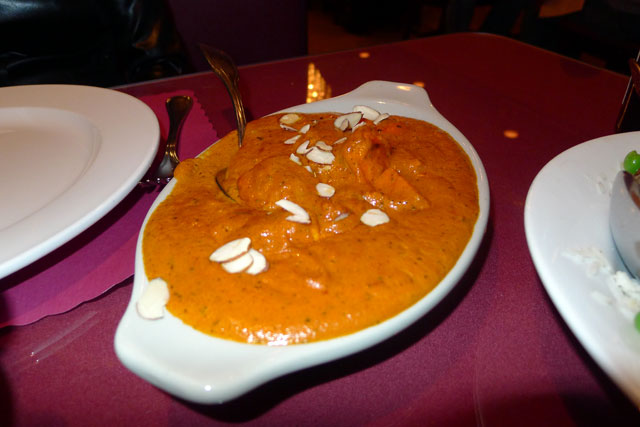 Chicken Tikka Masala
Boneless Chicken Tikka cooked with a creamy tomato-based sauce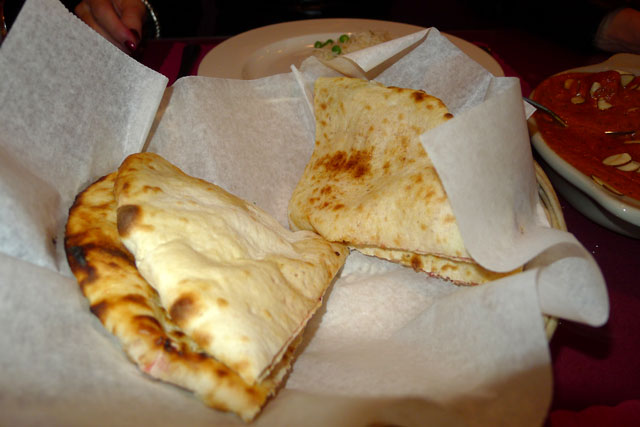 Peshwari Naan
Leavened bread stuffed with cherries, cashew nuts, almonds, raisins, and coconut powder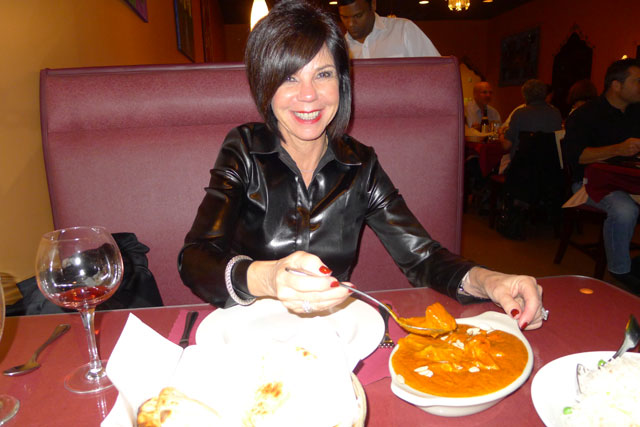 While Beth "almost never saved room for dessert," and we certainly had little if any room left, her recommendations had been so spot-on, we felt compelled to order the dessert she'd "have to choose." The rice pudding was cold and yummy; we were almost able to finish it.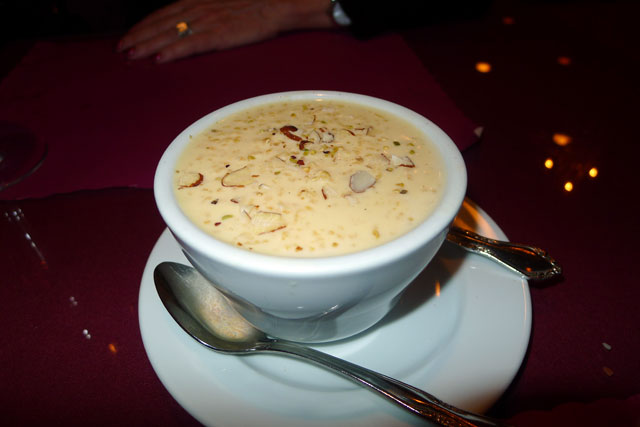 Rice Pudding
An exotic dessert made of saffron-flavored rice with milk, sugar and almonds
Our Indian adventure was a resounding success. We will definitely return to Saffron to sample additional items from their overwhelming menu. But we'll still need Beth to help us select them; perhaps we'll bring her with us.
---
Copyright © 2012 TwoForTheTable.com